199
Panerai A stainless steel automatic cushion-form wristwatch with date ref OP 6524 BB1005893 C1278/1500 Luminor GMT PAM063 circa 2001
Estimate $6,000 – $9,000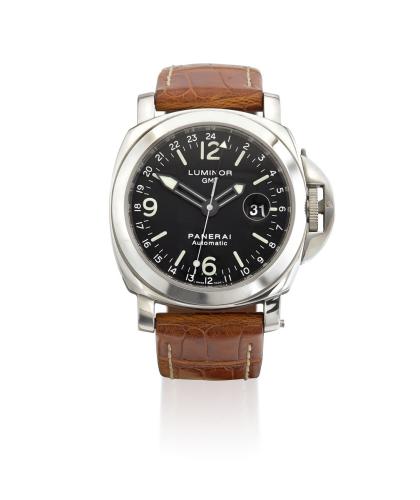 automatic winding movement, fully jewelled, mono-metallic balance, matt black dial, applied luminescent Arabic and baton indexes, luminous outer 24-hour markers for dual time zone, luminescent hand and second time zone hand, date aperture at 3, cushion-form case, patented crown guard, screw-down case back, case, dial and movement signed with a stainless steel Panerai buckle, diameter 44mm.

With a Panerai guarantee, certificate, booklet and box.

Accompanied by a signed letter from Russell Crowe stating his ownership.

Lot Sold $14,000 (Hammer Price)

$17,080 (Hammer Price with Buyer's Premium)
Provenance
Mr Russell Crowe, Sydney

'I associate this watch with the film, Gladiator (2000). I bought it in Spain while there to do the premiere for Proof of Life (2000), however it was also the period of time when Gladiator was nominated for Academy Awards.' Russell Crowe
CONTACT INFO +
Specialists

Geoffrey Smith

Chairman

Australian & International Art
Melbourne | Sydney
T: +61 (0)3 9508 9900
T: +61 (0)2 9302 2402
E: Geoffrey Smith

Gary Singer

Chief Executive Officer

Australian & International Art
Melbourne | Sydney
T: +61 (0)3 9508 9900
T: +61 (0)2 9302 2402
E: Gary Singer





Guy Cairnduff

Head

Arts & Design
Melbourne | Sydney
T: +61 (0)3 9508 9900
T: +61 (0)2 9302 2402
E: Guy Cairnduff

Anthony Hurl

Consultant Specialist

Arts & Design
Adelaide
T: +61 (0)8 7225 7836
E: Anthony Hurl

Fiona Hayward

Senior Specialist

Australian & International Art
Melbourne
T: +61 (0)3 9508 9900
E: Fiona Hayward

Brett Ballard

Senior Specialist

Australian & International Art
Sydney
T: +61 (0)2 9302 2402
E: Brett Ballard

Hamish Sharma

Head

Jewels
Sydney
T: +61 (0)2 9302 2402
E: Hamish Sharma

Patricia Kontos

Senior Specialist

Jewels
Melbourne
T: +61 (0)3 9508 9900
E: Patricia Kontos







John Keats

Senior Executive Office
Media & Marketing Manager

Melbourne
T: +61 (0)3 9508 9900
E: John Keats

Olivia Jia

Administrator

Arts & Design
Melbourne
T: +61 (0)3 9508 9900
E: Olivia Jia

Liza Hallam

Administrator

Australian & International Art
Melbourne
T: +61 (0)3 9508 9900
E: Liza Hallam

Tabitha Davison

Administrator

Jewels
Sydney
T: +61 (0)2 9302 2402
E: Tabitha Davison